Harnessing the Aegean wind
Windsurfing and kitesurfing are two very popular activities in Kos. Due to the strong summer winds blowing almost daily in certain spots of the island, adrenaline seekers will find plenty of organised wind and kite surfing clubs dotted around the island. Considered a hotspot among windsurfers and kite-surfers, regardless of their level of expertise, Kos is the place to learn how to ride the waves the easy way, safe and with lots of space on the water to push yourself to new limits.
Kos island is blessed with steady side-shore winds that makes windsurfing and kitesurfing ideal for all levels. For all Aegean islands, the best months to practice windsurfing and kitesurfing are from June to September. It can get very windy during that period and seasonal winds called "meltemia", could blow for many days in a row. For all Aegean islands, such as Kos, the windiest month is surprisingly August.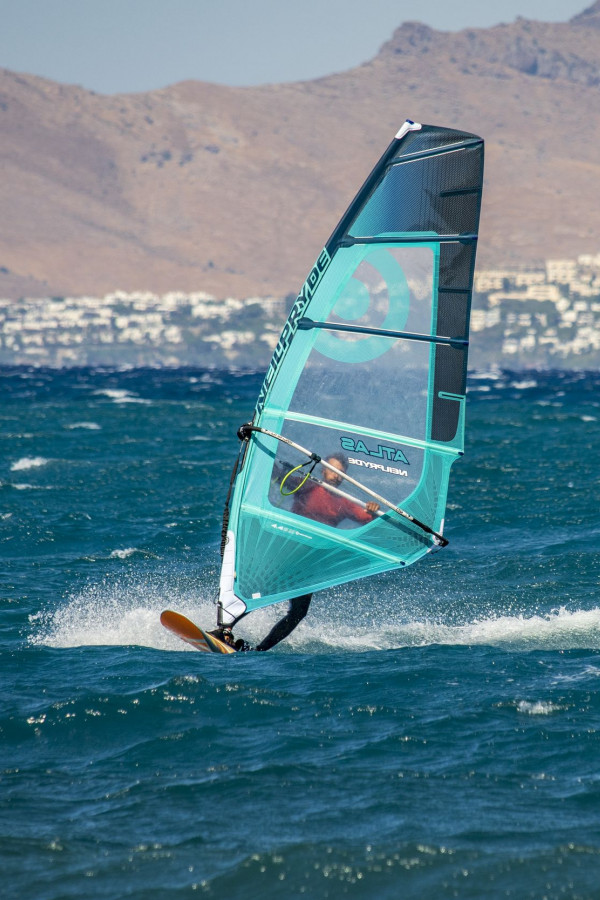 As one can imagine, the most popular spots on Kos are those with the highest wind probability. Psalidi, Mastihari, Tigaki and Kefalos, Kohilari, host the most popular windsurfing and kitesurfing centres,  offering excellent top-notch equipment and training, so fanatics don't need to worry about finding pro-gear. 
Kite-boarding is the fastest growing sport on the island, can be described as an adventure surface-water sport combining wakeboarding, windsurfing, surfing, paragliding and gymnastics into one extreme sport. Kitesurfing harnesses the power of the wind to propel a rider across the water on a small surfboard or a kite board (like a wakeboard). Kitesurfing is easier to learn than windsurfing, therefore many kitesurfing clubs have started operating in Kos during the last years, since many travellers are looking for a boost of adrenaline during their holidays in the Greek islands. Visitors are able to rent the necessary equipment or take lessons in the island's several clubs.