If you're looking for an affordable, pleasant and eco-friendly way to discover Kos Island, opt for cycling. With more than 10 miles of bike lanes along the coast, 6.500 bicycles available for rent, plenty of mountainous off-road paths and routes for all levels, cycling is the ultimate way to sightsee or simply just wander around. 
For decades, Kos has been widely known as «the island of bicycles» and not without reason. The intense cycling culture dates back to the Italian occupation and the systematic use of bicycles by the Italian soldiers, which was then adopted by the locals as it seemed like the right choice if one considers the island's morphology. Iconic Greek movies of the '60s show movie stars riding bikes in Phoinikon street (Palm Tree Avenue). Ever since, riding a bicycle is a popular activity for locals and visitors alike. 
Using a bicycle to go out-and-about when on holidays benefits your health, improves your looks and grants autonomy and flexibility. Once you travel or move around by bike, you will become more self-reliant and flexible in exploring new places simply because you can go anywhere you like, at any time.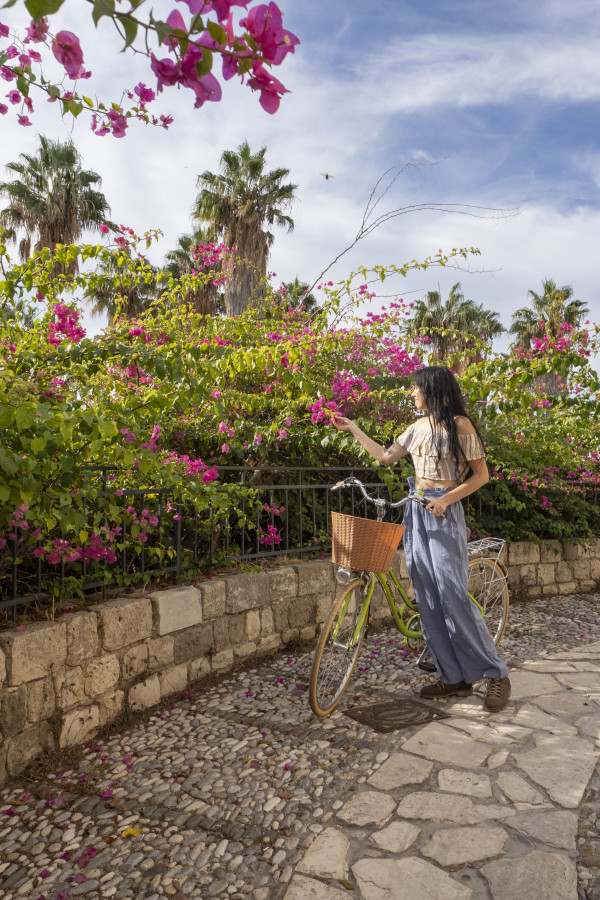 Today, Kos island features great routes for all levels of riders: completely flat, mountainous, mixed, dirt roads, steep trails and a highly developed cycling culture. Both locals and visitors use bicycles as a means of transportation in their daily lives. Young people and teenagers use them to go to school, get around or have fun, the elderly use them to go shopping, others to just work out or take a stroll and visitors choose them for their travel adventures. 
The island offers services of great quality and high-end bicycle shops, with a wide variety of urban and mountain bike equipment. Whether you are hitting the road to visit the beach, the mountain or both, on Kos island you are able to find just the kind of bike you are looking for. All you need to do is hop on it and start exploring Kos on two wheels!
There are certainly not many destinations in Greece where you can do a completely flat route of 60km one day and a more demanding 110km route including 1000m. of ascent the day after. And this is one of the main reasons Kos is considered a top choice when it comes to cycling enthusiasts.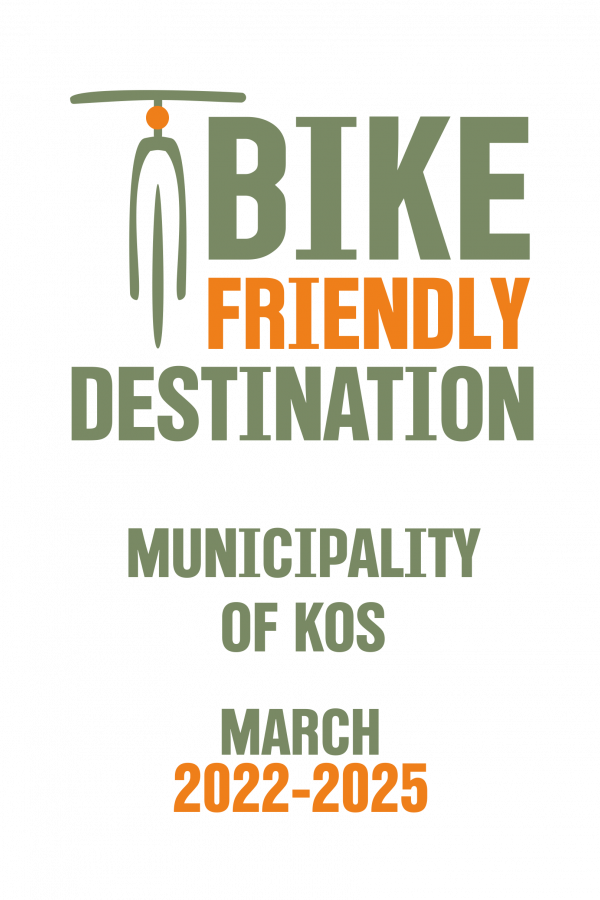 "Bike Friendly" destination
Recently, on Friday April 15th 2022, the Municipality of Kos received the "Bike Friendly Destination" certification. The certification is awarded by the non-profit company NatTour, in cooperation with the Hellenic Society for the Protection of Nature and is under the auspices of the Ministry of Tourism and the Ministry of Environment & Energy.
It certifies that a destination meets a set of European accepted criteria that create a "cycling identity" for the destination and make it easier for visitors to use bicycles during their holidays. It contributes to the promotion of cycling in the region as a way of transport, leisure or sport, while at the same time, it highlights the Municipality of Kos as a destination of alternative forms of tourism.
Kos is an island that meets the criteria for the certification, the most important of which being the existence of cycling routes within the geographical boundaries of the Municipality, the possibility of renting bicycles from businesses based in the Municipality, the existence of bike lanes or trails (exclusively marked for bicycles), the existence of parking spaces exclusively for bicycles and the existence of Bike Friendly Hotels.