Overview

Tags
Ancient Greek,
Roman,
History,
Free entrance,
Easy access

General location
Kos town

A flourishing trading center
In antiquity, Agora (i.e. market in Greek) was the commercial and social centre of every city. Likewise, the ancient Agora of Kos was the commercial and social centre of the island, originally built in the 4th century BC, within a short walking distance from the port. The archeological site was excavated by the Italian School of Archeology during the period of the reconstruction of the city, right after the great earthquake of 1933.
After 366 BC, when the city of Kos was recognised as an important administrative centre, several buildings and sanctuaries were built in the harbour area. The ancient market was the heart of the island's economic center, including workshops, shops and altars, like a typical ancient market. It consisted of three main covered walkways, on its north, west and east sides, forming a large inner courtyard in the centre.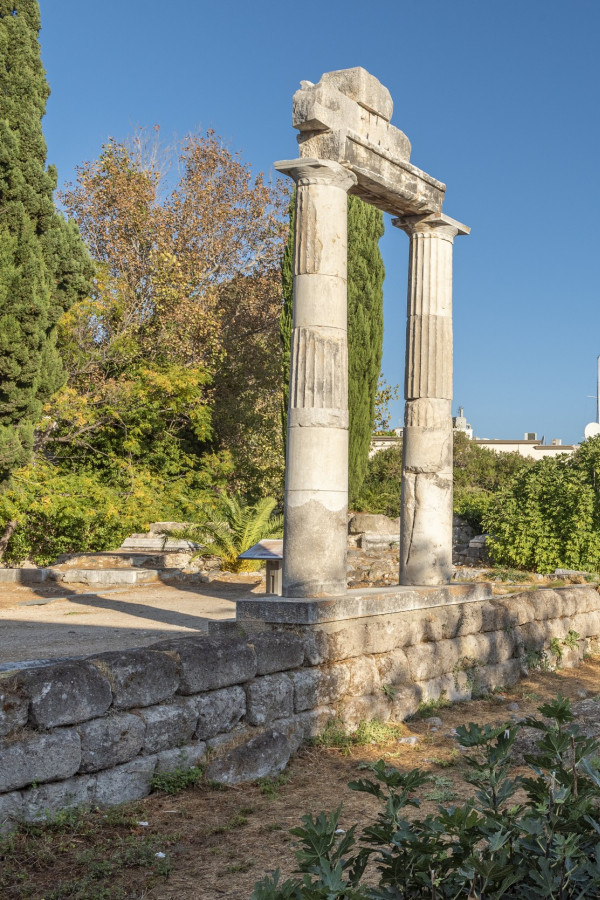 The north side was adjacent to the city walls, while on the east side (and possibly the west) included several trading shops. The southern end of the market was excavated by the Hellenic Archeological Service, restoring the length of the complex to about 300 meters.
As an archeological site, the market is a part of the port's wider archeological zone, the current visible part of which covers an area 152m long and 82m wide. Throughout this zone, apart from the visible ancient market, visitors are able to admire part of the city's fortification, the sanctuaries of Aphrodite and Hercules, construction blocks with house remains and a part of the city's ancient port. The ancient Agora of Kos is one of the largest excavated in Greece to date.

Access
Walk into the ancient Agora of Kos through the central Ippokratous Str. or through the bar street of Kos, found 2' away from Kos harbor.

Need to know
The largest part of the ancient Agora of Kos is right beneath the present city. In fact, its southern part came to light with recent excavations opposite the altar of Dionysus, which led to the restoration of two columns belonging to the ancient market.

Don't miss
The frequent earthquakes strucking the island were the reason for the town's constant reconstruction. The different materials used help to distinguish the building phases in time. The earthquake of 469 AD was decisive, marking the end of the ancient city and the beginning of the early Christian period.

Coordinates
36.8933062, 27.2905621