Overview

Tags
Ancient Greek,
Easy access,
History,
Hippocrates

General location
Kos town

Working hours
08:00 - 20:00 (except Tuesdays)
Final entering in 19:30

Entrance
€8 (€4 in winter)
EU citizens
Ages from 6 to 25, access for free , people over 65, access with a 50% discount
Non EU citizens
Ages from 6 to 25 and over 65, 50% discount
Proof of identification needed.
Renowned since antiquity
It constitutes one of the most famous Asklepieion of antiquity, one of Greece's longest-surviving archeological sites and the most significant archeological monument on Kos island. ​In ancient times, it was a place of worship of the god Asclepius as well as a place of healing and teaching of medicine. Here is where Hippocrates, one of the most important figures of medicine in antiquity and father of modern medicine, founded his school and taught medicine.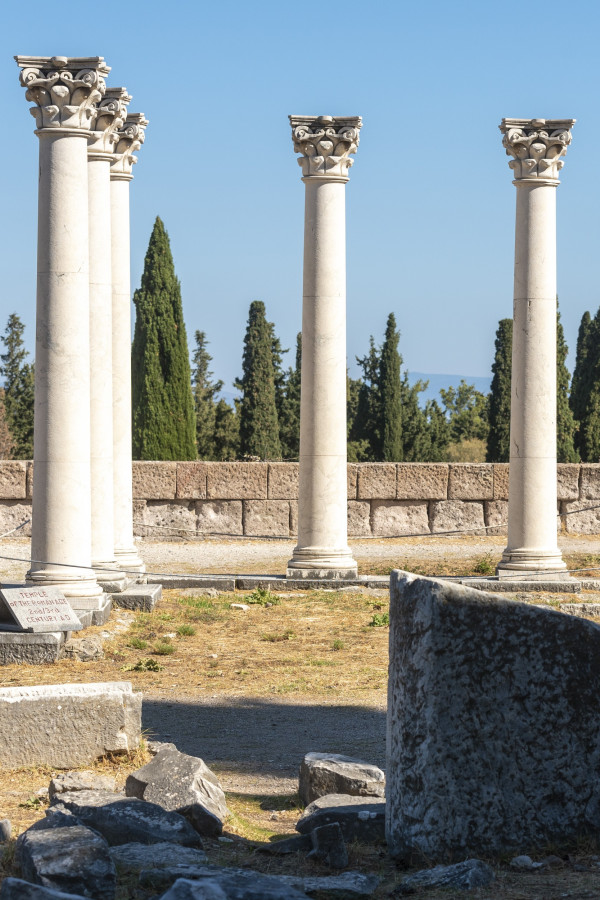 The Asklepieion of Kos, whose surviving ruins date back to the Hellenistic period, after the 4th century BC, was built  on the slopes of a hill with lush vegetation and impressive sea views. It was constructed on three "andera" - terraces. On the second terrace, there are remains of a large altar, the oldest structure from the Asklepieion from the mid. of the 4th century BC, which was decorated with sculptures by Praxiteles' sons. To the west of the altar, there is an older temple of Asclepius (3rd century BC) of Ionic order, next to the temple the priests' quarters, while to the east of the altar there is a small temple dedicated to Apollo (2nd century AD) with seven restored Corinthian columns.
The centre of the third terrace is dominated by the large Doric temple of Asclepius (1st half of 2nd century BC), in the vestibule of which a church dedicated to "Our lady of the Grove" was built, during the mid-Byzantine period. The excavations uncovered remarkable findings such as statues, surgical instruments and inscriptions.

Access
Easy to reach by car, motorbike or bicycle, found at a distance of about 3.4 km southwest of Kos town after following Asklipiou Str. and then Agiou Dimitriou Str. A free parking area is available

Did you know
The nationwide recognition of the right of immunity in the sacred area of Asklepieion for the establishment of the "Great Asklepieion" celebrations was a decisive event that occurred in Kos during the reign of the Ptolemies, in 260 BC. The local people's pursuit to grant sanctuary to any persecuted person seeking protection in the Asklepieion, reveals their immense pride for its existence and the consideration of the temple as the center of their city.
The discovery of Asklepieion was made in 1902 by the German archeologist Rudolf Herzog and the local historian Iakovos Zarraftis, who calculated and indicated the correct location of the sanctuary. Excavations were continued by Luciano Laurenzi (1930) and Luigi Morricone (1937-38), as were restoration and rehabilitation works. Several objects coming from the excavations were smuggled to Rome and Istanbul.

Coordinates
36.8758928, 27.2571722