Overview

Tags
Castle,
Free entrance,
Easy access,
Knights,
History

General location
Antimacheia

Heroic battles
The castle of Antimachia is a remarkable medieval fortress built during the Late Middle Ages from the Knights Hospitaller of St. John. Built on a plateau, southeast of the village of Antimachia with a view to the southern coast of Kos, its position allows for panoramic views over the Aegean archipelago. It was successfully used by the Knights as a fortress in 1457 to prevent an Ottoman attack. According to written testaments of the 14th century, the castle also served as a prison for condemned knights.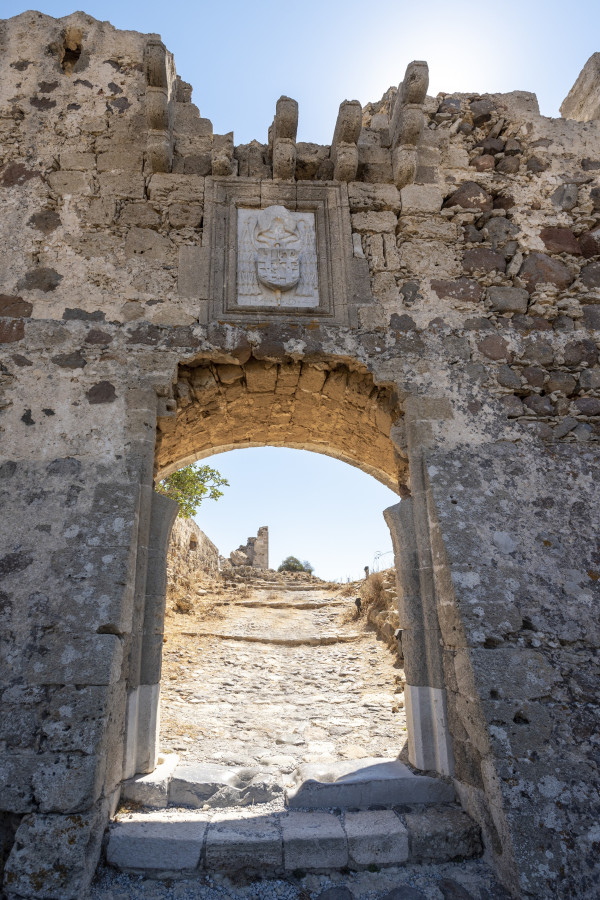 The castle has a triangular shape with a peak to the east and every side is organised as an independent fortification line, following the shape of the terrain. It was renovated by the Knights Hospitaller in 1494, after the  great earthquake of 1493. The walls were reinforced and new battlements of various types were added along the external wall.
The Castle is impressive on the outside, reminiscent of the battles fought and the constant invasions from conquerors, but there is little saved to see on the inside in good condition, apart from ruins of the old settlement of Antimachia, plenty of space, several cisterns and two churches. The first one is a Byzantine church of Agios Nikolaos (Saint Nicolas) from the 16th century and the second is a chapel of Agia Paraskevi, built in the early 18th century.  The old settlement was abandoned in 1840.

Access
Easy to access from the main district road of Kos using a car or a motorbike. Located 4 kilometers from Antimachia village and 24 kilometers from Kos town.

Don't miss
At the entrance of the castle there is a massive crescent shaped bastion with deep ramparts, the symbol of the Knights engraved in marble.

Need to know
On June 3rd, 1457, an Ottoman fleet of 156 ships and 16.000 army forces attacked Kos. They first attacked and burnt the Castle of the Knights and then headed towards the Castle of Palio Pyli and the Castle of Kefalos. Castle of Antimachia followed, which was besieged for 23 days. It was heroically defended by 15 knights and 300 people, most of them unarmed. On June 26, the Ottomans after trying to overpower the Castle and causing some damage in the countryside nearby, finally retreated after having lost more than 1.000 men. Only 15 out of the 300 defenders of Antimachia Castle were killed! People of Kos who seeked refuge in the Castles of Kefalos, Palio Pyli and Antimachia were saved.

Coordinates
36.8036362, 27.1280543