Overview

Tags
Byzantine,
Free entrance,
Religious


An astonishing seascape
In 1932, Italian archeologist Luciano Laurenzi discovered ruins of a complex of two three-tiered early Christian basilicas right by the sea, in Kamari bay of Kefalos. The well preserved basilicas date back to 469 and 554 AC and create an astonishing landscape. Kastri islet, a small rocky islet standing still right opposite in the middle of the bay, along with its charming Agios Nikolaos chapel, complete the awe-inspiring scenery.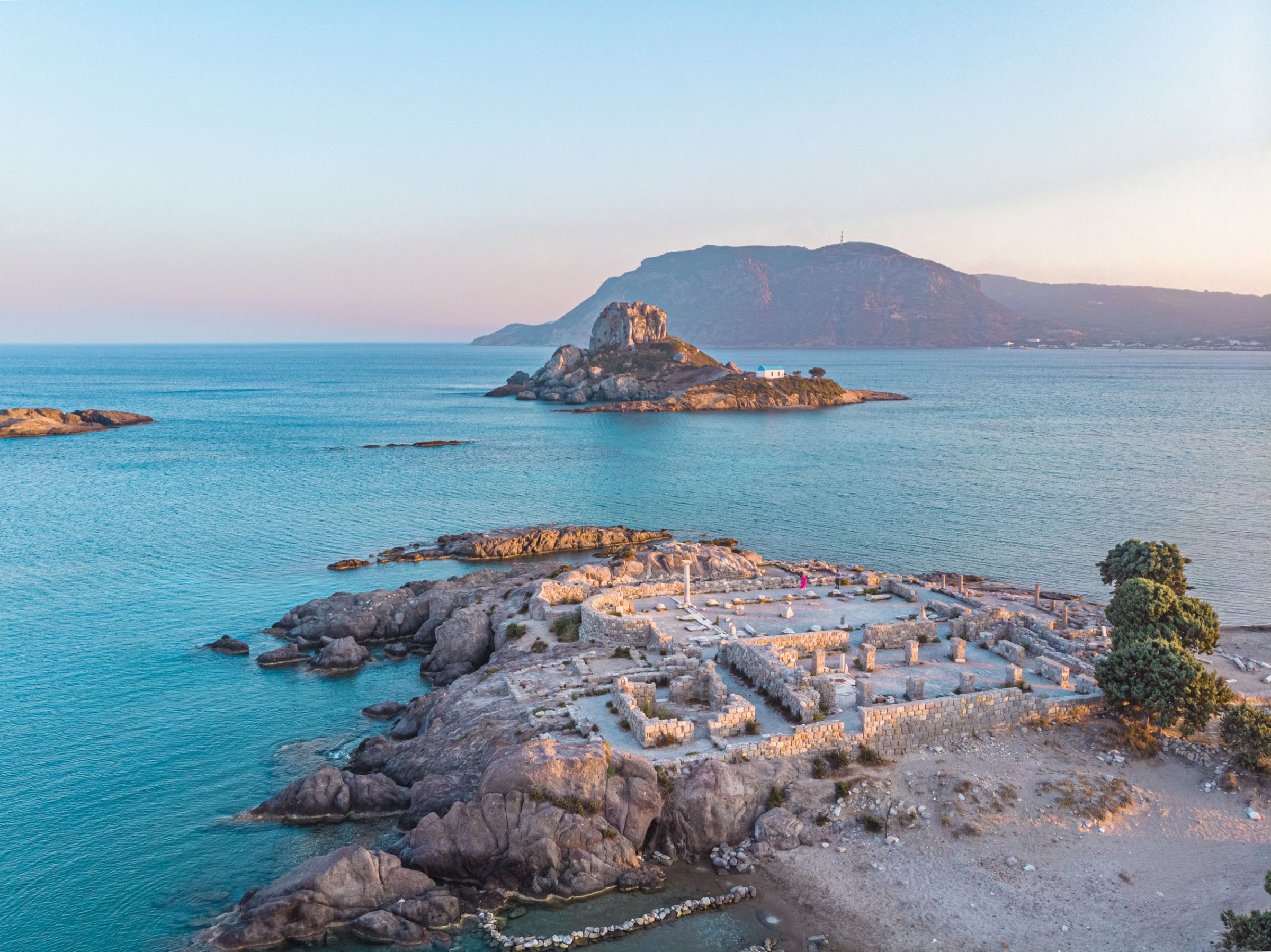 The early Christian temples' ruins in Agios Stefanos constitute the largest and most well-preserved basilicas on the island. The complex consists of two basilicas; the smaller basilica and the great basilica. The great basilica had a rectangular atrium with colonnades made of granite on three sides. In the centre, there must have been a fountain, on the east side there were steps leading to the narthex and south of the main temple, the deacon's room and auxiliary rooms were discovered. The three naves of the temple were separated by colonnades, whose columns were made of white marble and gaps in between covered with relief slabs.
The smaller basilica, of which the niche, synthrono (seats in the sanctuary of the church behind the Holy Table, reserved for the clergy) and foundations of the sanctuary are preserved, is located on the north side.

Access
Found in Kefalos (Kamari bay), at a distance of 42 kilometers from Kos town right opposite the iconic islet "Kastri" and about 3 km northeast of Kefalos village. Easy to reach by car, motorbike or bicycle. Alternatively, it is easily reached on foot through the sandy beach of Kamari.

Need to know
A large, built, cross-shaped baptistery and a system for draining water into the sea were found east of the complex of the two basilicas.

Don't miss
The floor which is covered with elaborate mosaics, some of which are preserved until today.

Coordinates
36.7527614, 26.9891697