Overview

Tags
Byzantine,
Free entrance,
History,
Castle


A byzantine castle-city
The castle is found 3km to the south-east of the present settlement of Pyli, on top of a hill at an altitude of 300 meters, dominating the entire area. It was built within the medieval settlement of Palio Pyli, which was located in the centre of Kos at a distance of 15km from today's Kos town. The old settlement, or castle-town, dates back to the 11th century AD. and was built in a natural fortified position, protected by its strong acropolis.
According to the life of Saint Christodoulos, founder of the Monastery of St. John of Patmos, the area was uninhabited when he arrived, after being invited by the native monk Arsenios Skenouris in 1080. He decided to settle and establish a castle and a monastery, with which the ruins surrounding the church of Panagia Kastriani (note: Ypapanti of Christ) are related. According to his biography, by the time he left for Patmos in 1088, the area had become a settlement.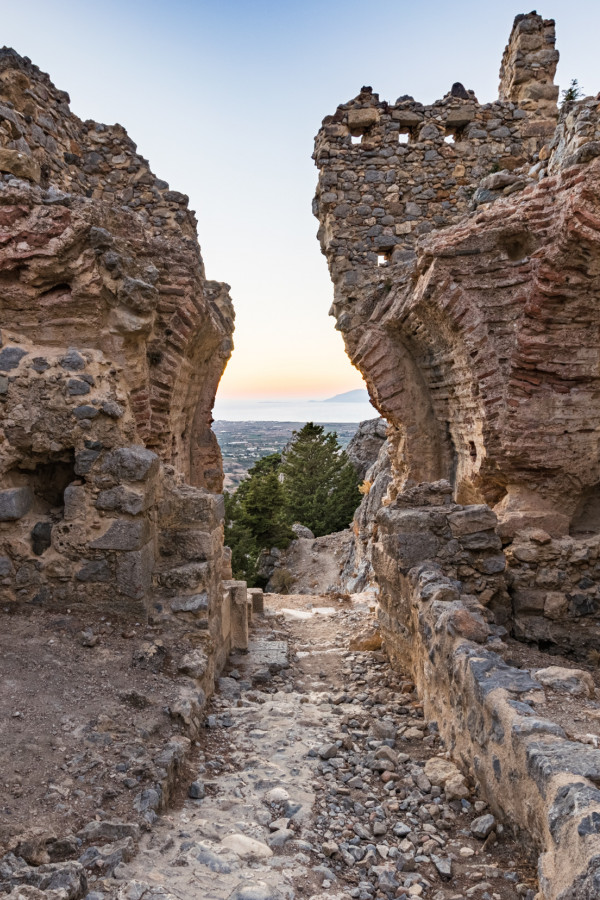 Today, what is left of the castle (late 11th century - mid 15th century) is seen atop of the hill, along with a total of 7 towers from different periods. The part of the castle that stands out is the rectangular gate, which was surrounded by four semicircular arches. The gate was built at the end of the 11th or the beginning of the 12th century.
During the great earthquake of 1493 the castle, or else "Castello di Pilli", was severely damaged so the Knights' Order sent a committee to repair it the following year. In 1523, right after Rhodes, Kos was invaded and occupied by the Ottomans. The view from the castle of Palio Pyli is magnificent, overlooking the neighbouring islands of Pserimos, Kalymnos and the Turkey coast.

Access
The castle and settlement are reached following a forest path, about three kilometers from the current settlement of Pyli.

Need to know
The last piece of information about Palio Pyli comes from the local historian Iakovos Zaraftis, according to whom both the settlement and the castle were abandoned in 1813 or in 1830 due to an epidemic that decimated the population.

Don't miss
The three churches, Agios Antonios (St. Antony), Panagia Kastriani (Virgin Mary) and Agioi Asomatoi (St. Asomatoi), are found in the abandoned castle-town among house ruins, former cobbled streets and other remains.

Coordinates
36.8396674, 27.1865054