Overview

Tags
Sunbeds,
Pebbles,
Deeper waters,
Public transport

At a distance of 13 kilometres from Kos town, Therma beach (or Embros Thermae) is located downwards a cliff overlooking the endless Aegean blue at the south-easternmost point of Kos, right after Agios Fokas. This beach was named after the Greek word "θερμός" - literally meaning hot, due to the hot springs that have been gushing out for centuries, nowadays offering an invaluable outdoor spa experience. Most part of the beach is mostly covered with dark sand and stones, as a result of the pre-existing volcano activity in the area. After passing through the huge and steep rocks, don't be caught by surprise if you spot a goat or two!
This rocky landscape offers deep yet crystal clear waters and incredible, sort of dramatic, views towards the volcanic island of Nisyros. The small beach features dark pebbles, as a result of the volcanic activity thousands of years back and there is a little colourful beach bar with some sun beds and umbrellas to rent.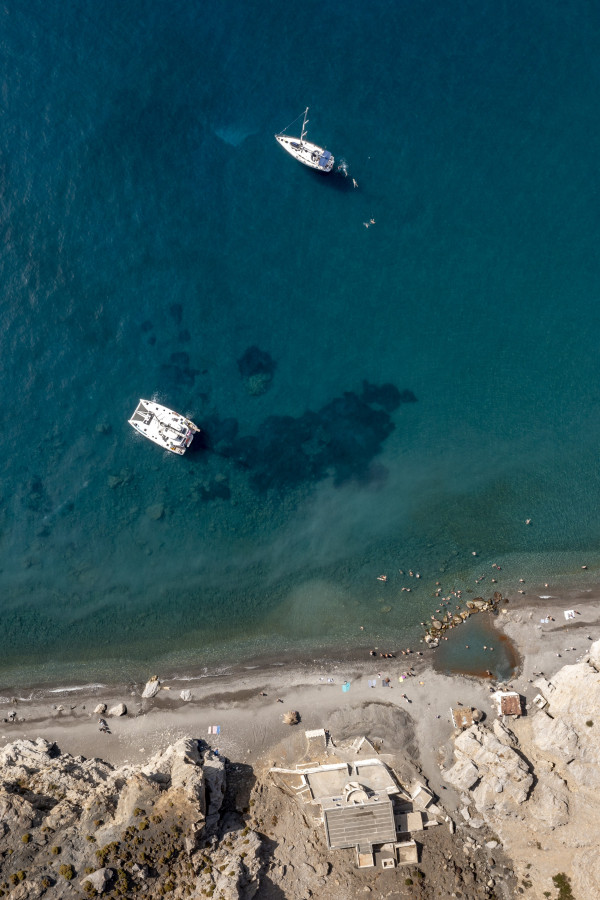 The hot spring that flows down to meet the Aegean right on the beach, forms a sort of sea-pool where the hot water mixes with the seawater. The water's temperature ranges between 42 - 50 degrees Celsius (100 - 120 Fahrenheit) - the closer you get to the source, the warmer the water! While into this sort of natural pool, which is actually surrounded by stones to keep the water relatively limited, visitors get to feel an underwater tickling as a result of bubbles percolating up through the water. This phenomenon is caused by volcanic gases being pushed to the surface from the sea bed!
These natural volcanic springs bear healing properties, as they contain elements rich in Calcium, Potassium, Sodium, Sulphur and Magnesium, ingredients that are considered instrumental for curing skin, arthritic or rheumatic diseases. Plus, hot spring bathing helps blood circulation and cell oxygenation, improving our body's digestive and detoxifying capabilities. Definitely worth a visit, despite the kind of intense sulphur scent, don't you think? Swim in and out of the natural hot thermal springs for the ultimate revitalising experience! 

Must do
Visit the hot thermal springs in the evening, to indulge in the experience under the starry sky. Opt for a moon night and observe how the sulphur radiates under the black sea, resembling underwater fireflies.

Did you know?
The flowing water has a temperature of 45-50 degrees and blends with the sea water creating different levels of heat across the natural thermal pond. The underwater tickling when into the pond is a result of bubbles percolating up through the water - a phenomenon caused by volcanic gases being pushed to the surface from the sea bed.

Coordinates
36.8446736, 27.3163618