Overview

Tags
Nature,
Mountain bike,
Photography

Tigaki's salt lake (Alykes in Greek) is a Natura 2000 location between the settlements of Tigaki and Marmari, with reedbeds, marshy areas, water and plenty of flora and fauna species. Former salt pans to be exact, as the area operated until 1989 as a sea salt production site, thus the abandoned buildings. Today, this lagoon of salt water is considered a protected area as it offers shelter to a plethora of migratory birds, including the exotic pink flamingos and many more flora and fauna species such as wild canes, rushes and tamarisks.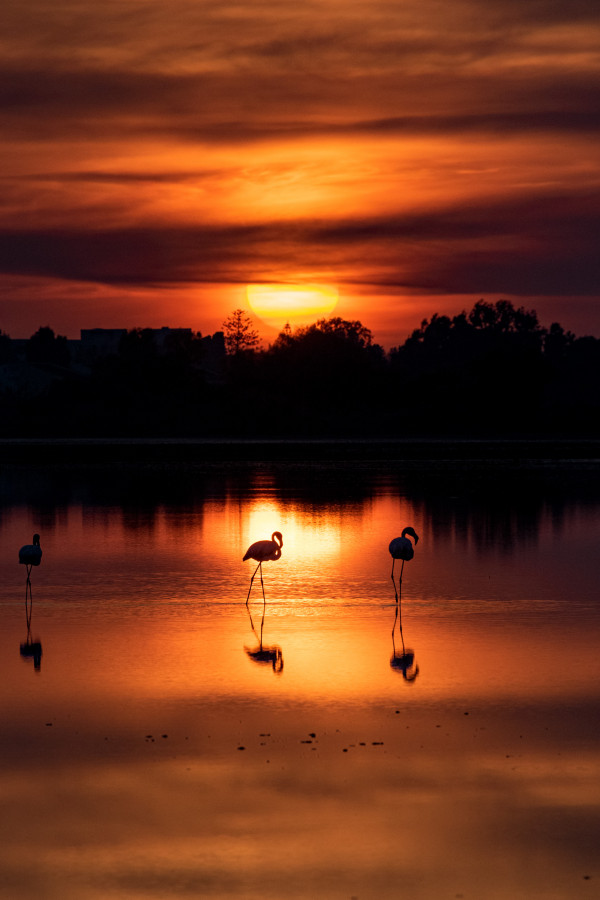 Pelicans and herons are some of the bird species that are found in the area, along with water turtles and water snakes. Remarkable migratory birds, like pink flamingos and ruddy shelducks are seen during the migratory periods (autumn and spring). The heart-shaped lake is considered a photo-worthy area - especially during sunset! - attracting both local and foreign photographers who wish to capture the impressive flamingos as they fly away or stand still, reflecting on the lake's surface. Easy to reach on foot or by bicycle, car or motorbike, the scenic salt lake area may also be included in daily horseback riding tours organised by the area's several horse farms!
Did you know?
The lake dries out during summer, leaving behind an all-white surface from the remaining salt. As the water evaporates, drought forms a lunar landscape, which is solid in some places and softer in others, with few tree branches and feathers scattered all over the area. Seen from above, the lagoon looks like a heart when it's full of water.

Coordinates
36.8859794, 27.1711542